My Quarantine Mood Might Never Quit: Sometimes I feel invisible, like I don't matter, and that I am insignificant.
Will this ever end? I've been stuck at home since March! I am sure you know how I feel. I think I am becoming invisible, maybe I don't matter any more, maybe I am insignificant, and maybe I'm being unjustly judged by the world. I've been disconnected for so long I have no idea what the people in my community think! That's why I go to the worst possible outcome. I need people in my life! I need normalcy!
A year ago this weekend I went to see Star Wars: The Return of The Jedi with my good friend Luke. I shook hands with a random stranger (who happened to be Rian Johnson's brother), but now I am stuck inside.
At this point it would be more surprising to hear from someone who hasn't been quarantined due to a Covid scare than about someone having to do multiple quarantines. Yet, I refuse to allow the covid quarantine life to be the new normal. It should not be normal to be stuck inside of my house with a weird fear of whoever is delivering my toilet paper. It will never be normal to have to meet all of my students through zoom, where I try to be as entertaining as the best podcasters and as relatable as their best friend. And it will never be normal to work day in and day out in the same sweat pants no matter how hard I try! I want to go out to eat inside a restaurant again! I want to go to movies!
Speaking of movies, no not the 158 movies April and I watched at home last year, but real movies in the theater! The last movie I saw in theaters was Onward on March, 6th 2020. April and I love going to movies so the fact it has almost been a full year since I stepped into a movie theater astounds me. At first I didn't mind it even though April and I go out of our way to have fun movie going experiences. We went to the O2 arena in London to see Spider-Man: Far From Home while on our honeymoon. Before last March I couldn't remember the last time I went more than a month without going to the movies. Even when I lived in Guatemala, I made sure to travel to the theaters (I have a blog about traveling to Guatemala City to live it up in luxury which meant going to the movies), even though most of the movies were horribly dubbed into Spanish or had lousy subtitles (and the theater leaked any time it rained and it always rained in Guatemala). But now a year without theaters has me sad and a little mad.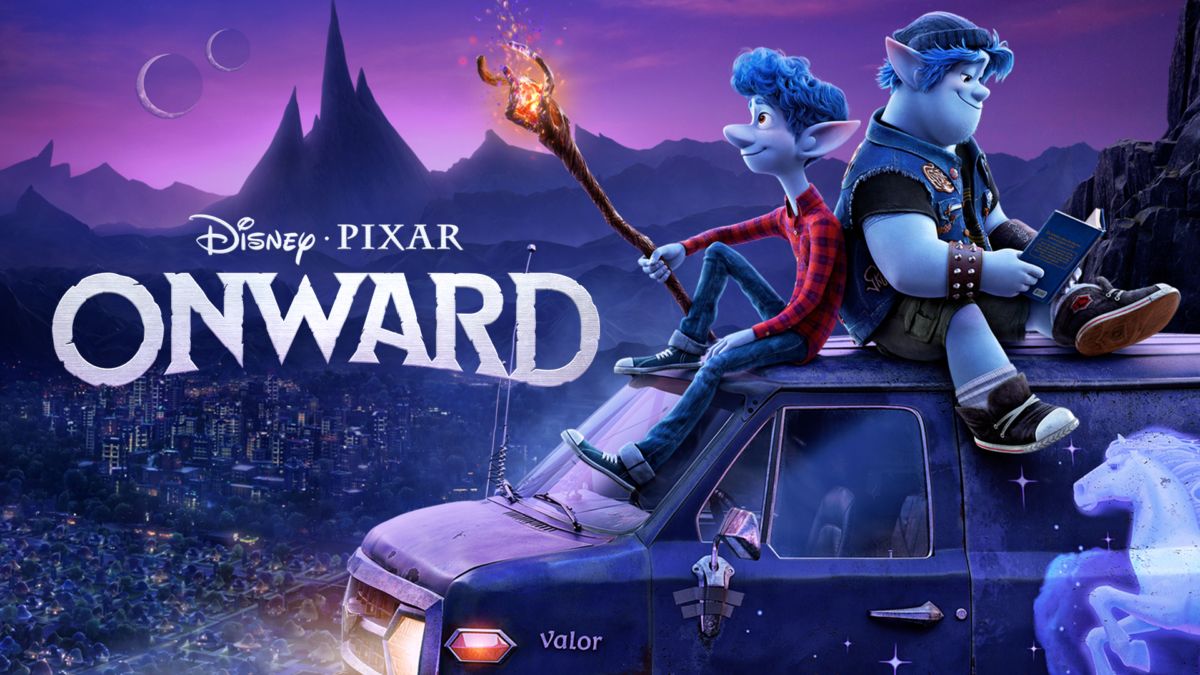 But as I move onward through this pandemic maybe I should take a lesson from Onward. If you haven't seen Onward, it is a fantastic Pixar movie about two brothers, Ian and Barley, going on an adventurous road trip to reconnect with their dead dad. Like the two brothers in the movie we could all use a little reconnecting right about now and maybe a road trip too. Yet, our world is forcing us to hold each other further away than arms length. I am not a huge hugger, but I do love a good hug and well, we could all use one.
Yet maybe Onward was a great last movie to see in the theaters and it could be a great hope for the future of theaters and the end of quarantine life. It is a great last movie experience, not because now it is just easier to watch movies at home on Netflix, HBO Max, or any other streaming service, but because it reminds us that there is good in our world. As the lockdown started last March, I had Onward on my mind. Ian Lightfoot, the young protagonist voiced by Tom Holland, only wants to reconnect with his dead dad, but throughout the movie life blocks him from satisfying those desires. That is what it has been like for the past year. I have desires to travel, to go on a road trip, but Covid has blocked that. Instead of driving up the west coast of California this summer, April and I will be staying in because it is not safe for us to travel with a baby girl on the way. I am very willing to sacrifice for my family and my future baby girl, but it still sucks to be stuck at home.
Being forced to stay in makes me feel off. All year I have been staying in. I teach remotely due to health reasons (which are now double due to baby Hermione (not her official name) and so sometimes I feel invisible to my coworkers. Like when they are all provided a free lunch and I don't get any because I am home. This can lead to me feeling insignificant. The feeling of insignificance is compounded when my opinion is not considered for how to teach something in my class. Then I feel unfairly judged because I am being told to run my zoom meetings a certain way even though I do not feel like the person judging me has the whole story, nor the best interest in mind for my students. And then my school district keeps on making decisions for my life and our community that I disagree with which makes me feel like I do not matter. And yet, all of this is okay. I must be okay with being invisible, with being insignificant, with feeling like I don't matter, and with being unfairly judged.
In Onward, Ian struggles with not knowing his dad and therefore not knowing his true identity. What I am realizing is that it is okay to struggle because that helps us become who we are meant to be. Importantly, if Ian hadn't struggled he never would have become who he was meant to be. But his true struggle was one of letting go of his desire to connect with his dad. As Ian fights to truly reconnect with his dad he causes problems. His desire to connect with his dad is not bad, but like all desires, if they are held onto for too long they can be our ruin because they do not truly satisfy. Ian is forced to choose between connecting with his dead dad or letting go. If he chooses to let go, it will be a humble sacfrice. I want to let go of my desires to fight and sacrifice. No, not because I want to be like characters in a movie, but because I want to follow Jesus.
On a deeper level than movie analysis, I need to be okay with feeling invisible, insignificant, unfairly judged, and that I don't matter sometimes because Jesus felt all of that too. In the fight, flight, or freeze response to fear and adversity, Jesus knelt and sacrificed. I would imagine that if Jesus was asked to quarantine with us, he would feel frustrated and lonely, but he would respond to it all in love. Just like he did when he was persecuted and forced to march to Calvary. He did not fight against being told to do something he disagreed with or unfairly judged, but carried the cross for all of us. He took on all of our loneliness, isolation, separation, thoughts of insignificance, and invisibility when he did not fight back and allowed himself to be nailed to the cross. If he can do that maybe I can too. If he felt how I feel at times, and yet choose love I can find freedom in choosing to become more like him, even if I can't go on the next adventurous road trip. And until my next adventure I can still dream of my next trip back to Hogsmead at Universal Studios.